Greetings East Coast Camaro Club Members!
Looking for some good winter pictures(Camaro Related of course) to share with the other club members.. if you've got any good pictures.. maybe working on your car in the Garage, out for a ride in the Snow.. or in your Camaro Rental on vacation in Arizona! Send an E'mail to Mike and we'll post on the web...
ms67rsss@comcast.net

A message from member Rueben Cortez…

I had my club jacket embroidered with a photo of my car by Gayle Bailey. I work with Gayle (Gayle lives in Lowell , MA ) If you are interested contact: Butterfly Creations By Gayle, Gayle313@aol.com , Quilting & Embroidery, Special Orders, Quick turn around time, 978-265-3372, Etsy.com Seller Name: gayle313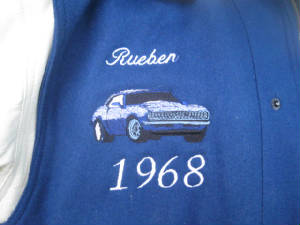 A note from Scott Settlemire...
Good morning, Camaro Comrades, Firebird Friends, and Corvette Cousins..........

Most of you have heard me rant about the importance of safety belts to the point of where you're ready to pop me with an airbag.............


..........and that's fine - I just don't want to lose any more friends to traffic accidents.

Attached is "the world's most beautiful seat belt ad" -- (......sent to me by our good friends in the Pacific Northwest Camaro Club - Chuck and Nancy Holmes...)

It's not gory - it's not shocking -- and it's something you can share with a 6 year old.............

...............and I'm begging you to do just that:

Share it with everyone in your family - your clubs - etc.........

The most beautiful seatbelt ad


OLD TIRES - PLEASE TAKE THE TIME TO VIEW THIS INFO- IT COULD SAVE YOUR LIFE! (Click the link below)

Greetings East Coast Camaro Club Members! As you know, the Club meets generally on the 3

rd

Sunday of each month at MacMulkin Chevrolet, 3 Marmon Dr., Nashua, NH from 1 – 3 pm. However, from time to time the Club may need to cancel the meeting or may move it to another location in support of another event. In order to keep you, our membership, informed, our secretary, Sheila Keene sends out a monthly email detailing upcoming events. We may also publish our events in a newsletter as well as on our website. If you have an email address and are not receiving e-mails from the club, please contact Sheila (

jamesh.keene@comcast.net

).